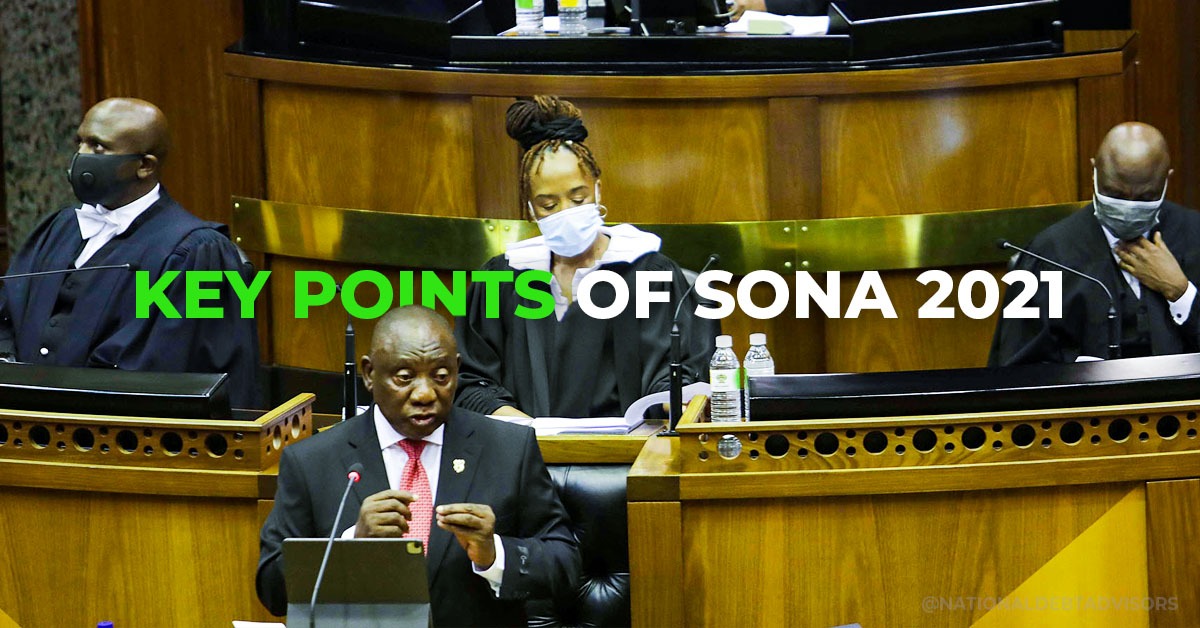 Key points from SONA 2021
President Cyril Ramaphosa delivered the 2021 State of the Nation Address (SONA) in Parliament on Thursday 11 February.
Due to Covid and lockdown restrictions there was no red carpet and fancy outfits, and President Ramaphosa took to the podium after a candle lighting ceremony, in honour of those who have died of Covid.
Here are some key points from SONA 2021
Covid vaccine
The first phase of the vaccination will be done using the Johnson and Johnson vaccine. SA has acquired 9 million doses and that the first batch of 80 000 is expected to arrive in the country in the week of the 15th of February.
Relief measures to date
More than 18 million South Africans have received additional social grant payments, lifting 5 million more people above the poverty line.
R57 billion in wage support has been paid to more than 4.5 million workers to protect jobs.
Businesses in distress have received R70 billion in tax relief and R18.9 billion in loans through the loan guarantee scheme.
Unemployment
Over the past year, South Africa has experienced a sharp decline in growth and a significant increase in unemployment.
In the third quarter of 2020, our economy was 6% percent smaller than it was in the last quarter of 2019.
There were 1.7 million fewer people employed in the third quarter of 2020 than there were in the first quarter, before the pandemic struck.
Youth Employment
6000 UIF beneficiaries were provided with learning opportunities in this financial year
24 049 artisans produced during the financial year ending March 2020
SRD R350 and TERS
The R350 Social Relief of Distress grant has been extended by a further 3 months
The Covid-19 TERS benefit has been extended until 15 March 2021, only for those sectors that have not been able to operate.
Small business development
The Department of Small Business Development has designed a Blended Finance Programme (BFP)
As part of the programme, R292 million was approved for disbursement to SMME's
48 SMME's benefitted from the funding contributing to the creation and maintenance of 1873 job opportunities
Gender Based Violence
Three key pieces of legislation were introduced in Parliament last year to make the criminal justice system more effective in combating gender-based violence.
One can argue that none of the above means anything to the ordinary South African struggling to make ends meet. 4 in 5 South Africans (80%) have had their finances negatively affected within the last year.
SONA has come and gone and our bills still need to be paid. If you are struggling to pay your monthly debt installments and juggling your living expenses – contact NDA today.